Journal Entry:
Sun Nov 13, 2011, 10:11 AM
:thumb68956084:
:thumb137702139:
Just a little quick entry about myself. I'm a dutch girl who loves to draw. My art is usually cute and colorful. I've been drawing since way back. My inspiration comes mostly from games, anime, nature and other artists.
Critique is always welcome. I'm here not only to enjoy other peoples art and showcase my own, I am also here to learn. So if you have any pointers, please feel free to write them down.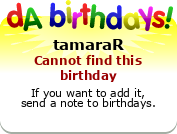 I have my own stock page

Please let me know through my poll what kind of art of mine you like to see:
tamarar.deviantart.com/journal…
I'm member of:

#GetWatchers help artists to share their creativity, increase their audience and get more feedback by getting more exposure and pageviews. If you want more exposure of your arts, constructive critics, watchers and/or if you would like to discover new talented artists, come join us

Here

.
Friends





















Fav artist Art





































Photomanipulation

















Photography



Usefull sites/groups for learning art (tutorials):

Online model practice:
www.pixelovely.com/gesture/fig…
and
www.posemaniacs.com/
I have been looking so long for a tutorial that would help me create that drawn look in photomanipulating and I found it here:
psd.tutsplus.com/tutorials/pho…
More really great tutorials can be found here
www.pearltrees.com/#/N-p=24328…
Deviations that touched my heart
Places I wish were real
:thumb179362579:
Lovely storybook art and fantasy wonders
:thumb265036085:
Listening to: Brooke Fraser - There is something in the water
Reading: Edgar Allen Poe
Watching: One Piece
Playing: Drawn 3 - Trail of shadows
Eating: fruit
Drinking: tea